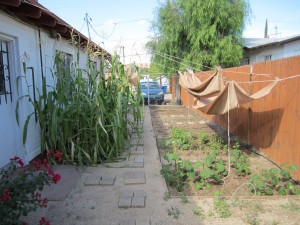 I am an avid gardener and used to grow most of my own food, including:
Grains: different kinds of corn, wheat, amaranth, sorghum.
Legumes: garbanzos, lentils, fava beans, red beans, white beans, mung beans, tepary beans, green beans, lima beans, black-eyed peas, mustard.
Vegetables: at least 30 different kind of greens & herbs (lettuce, cabbage, parsley, cilantro, spinach, bok choy, leeks, kale, mustard greens and many  more), broccoli, cauliflower, brussel sprouts, tomatoes, zucchini, okra, potatoes, carrots, radish, squash, beets, chiles, gourds, onions, garlic, turnips.
Fruits: strawberries, watermelons, melons.
Flowers, such as sunflowers.
Click here to see the photo gallery. Please notice that there are different categories (bottom-left corner).